I'm delighted to announce that The Admiral's Wife has won three awards!!
The lives of two women living in Hong Kong more than a century apart are unexpectedly linked by forbidden love and financial scandal.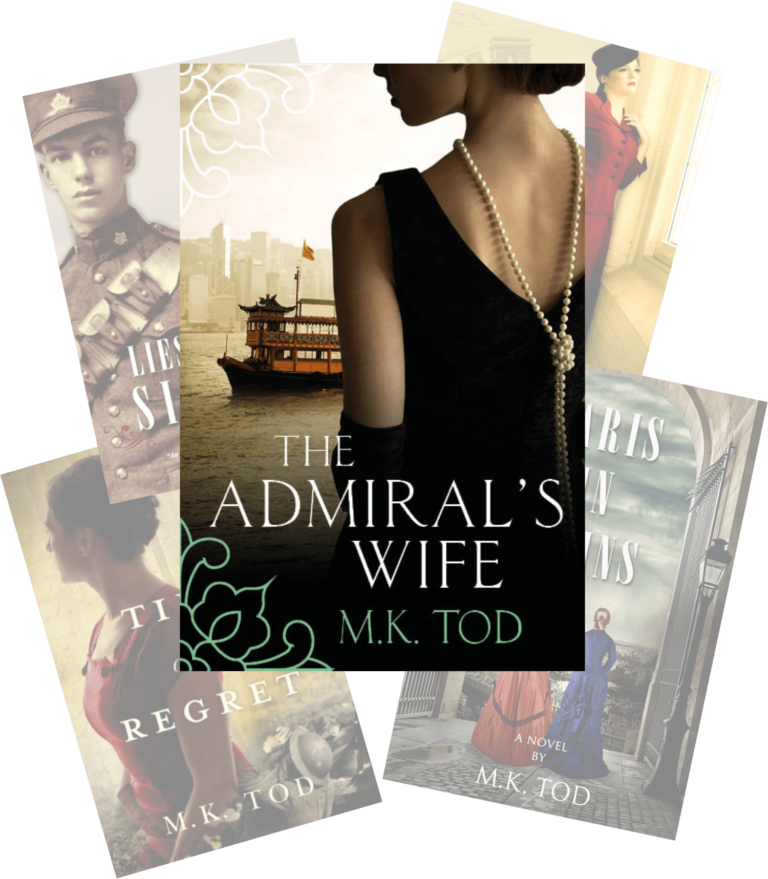 The Magical Tree: A Tate and Theo Adventure
Find out more about M.K. Tod's first children's novel
I'm M.K. Tod – Mary actually – author of historical fiction, blogger at A Writer of History, wife to Ian, mother of two adult children, grandmother to two delightful boys, golfer, hiker, and occasional biker.
I love hearing from readers. Please browse around and get in touch!
"Beautifully layered and sensitively written, I would not hesitate to say this is one of the best World War I historical fiction novels."
"...an extremely moving novel that gripped me from the start."
"An author who can make a reader feel so deeply has incredible talent."
"Truly this is a beautifully crafted story, full of emotion, detail and history that will keep readers entranced for hours."
Recently on A Writer of History
Mastering Art and Life

November 28, 2023

Irena Karafilly is the author of Arrested Song which is set in WWII at the time when Hitler invaded Greece. Irena is the author of seven books (5 English, 2 Greek). She currently divides her time between Canada and Greece, still looking for Home. ~~~ MASTERING ART AND LIFE by Irena Karafilly "After all, it […]

M.K. Tod
The Guest Book by Sarah Blake

November 26, 2023

I rarely read a novel twice. A friend once told me that she reads a particular book she loves every year and I've never understood why. However, I'm reading The Guest Book a second time because it's set for a book club discussion next month and having read it about two years ago, I can […]

M.K. Tod
Indigenous Writing, the Merging of Ancestral Knowledge and Modern Convention

November 24, 2023

Angie Elita Newell belongs to the Liidlii Kue First Nation from the Dehcho, the place where two rivers meet, which is in the Northwest Territories. A trained historian, she blends a tradition of oral stories with academic history and holds university degrees in English literature, creative writing, and First Nations history with an emphasis on […]

M.K. Tod